Eccoli qua!
Come largamente anticipato nel video iper natalizio fatto in diretta per il gruppo "Scialli all'uncinetto", ecco i mitici guanti da computer fatti con il filato
Edition 3 di Schoppel Wolle
.
Sapete che ho adorato questo filato da subito, perché è super morbido e super colorato (occhi a cuoricino) ehehe. Quindi era naturale pensare a qualcosina di carino per sfruttarlo al meglio: un mini guantino, e con un gomitolo ne vengono fuori due. È un tipo di guanto che va bene per riparare dal freddo la mano del mouse, che solitamente surgela quando stiamo al computer ;). Almeno la mia fa così 😀 😀
These are the mittens that I've made with Edition 3 Schoppel wolle, a super soft yarn with wonderful color transitions, I love it! They are perfect for those suffering cold when writing at the computer 😉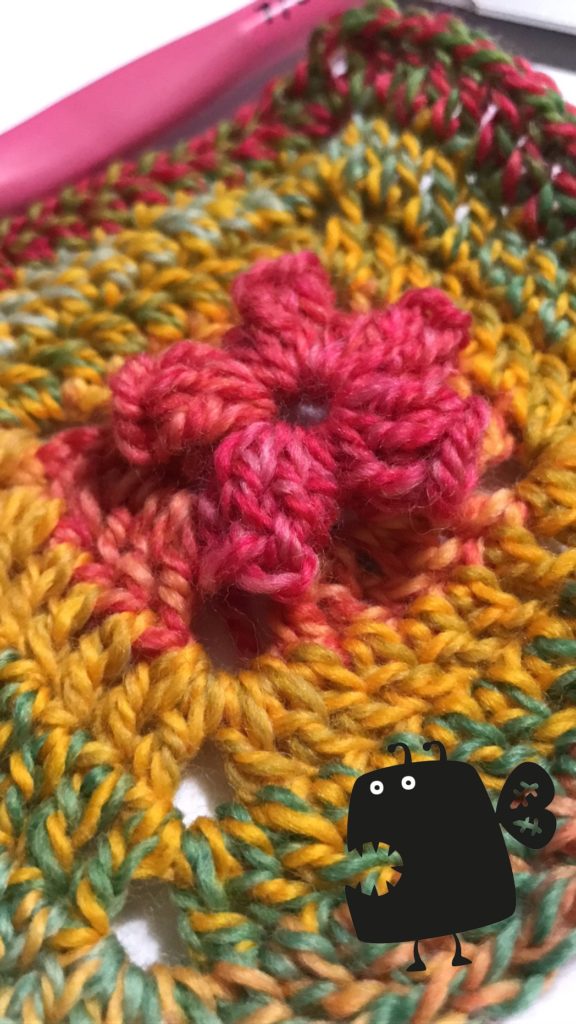 Materiale Necessario
Uncinetto 3,5 mm
What you need
Crochet hook 3,5 mm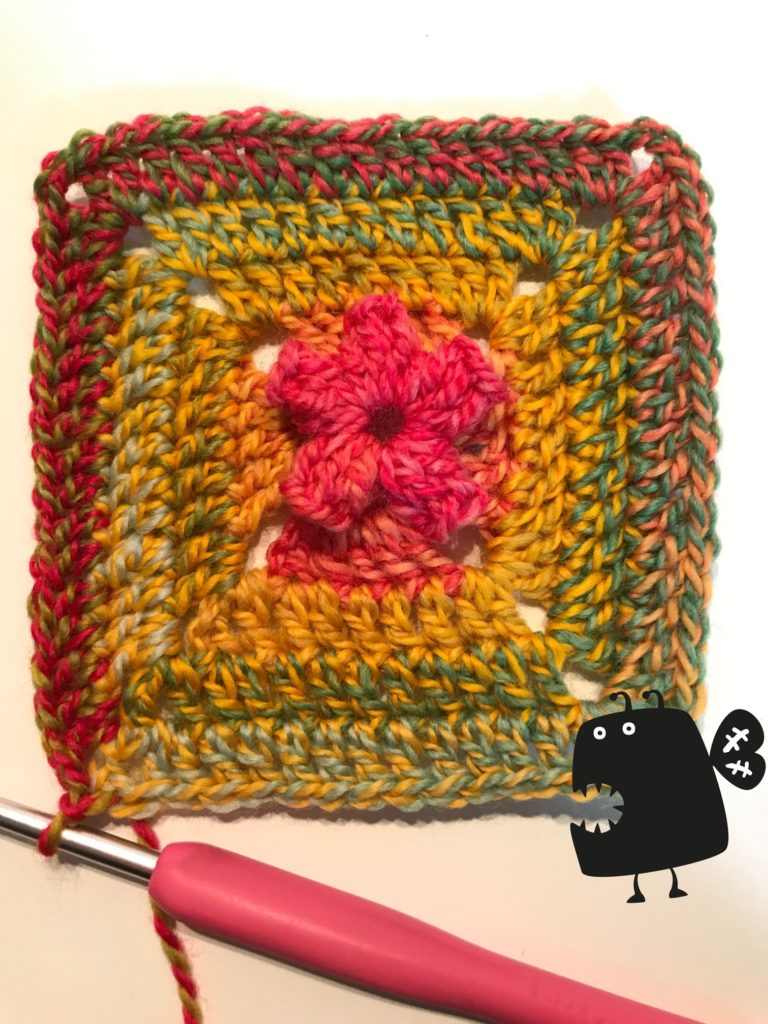 Il guantino è composto da due quadratini, uno per la parte superiore, che ha il fiorellino in rilievo, e un quadratino semplice per la parte inferiore.
The single mitten is made with two squares, one with the flower and one simple.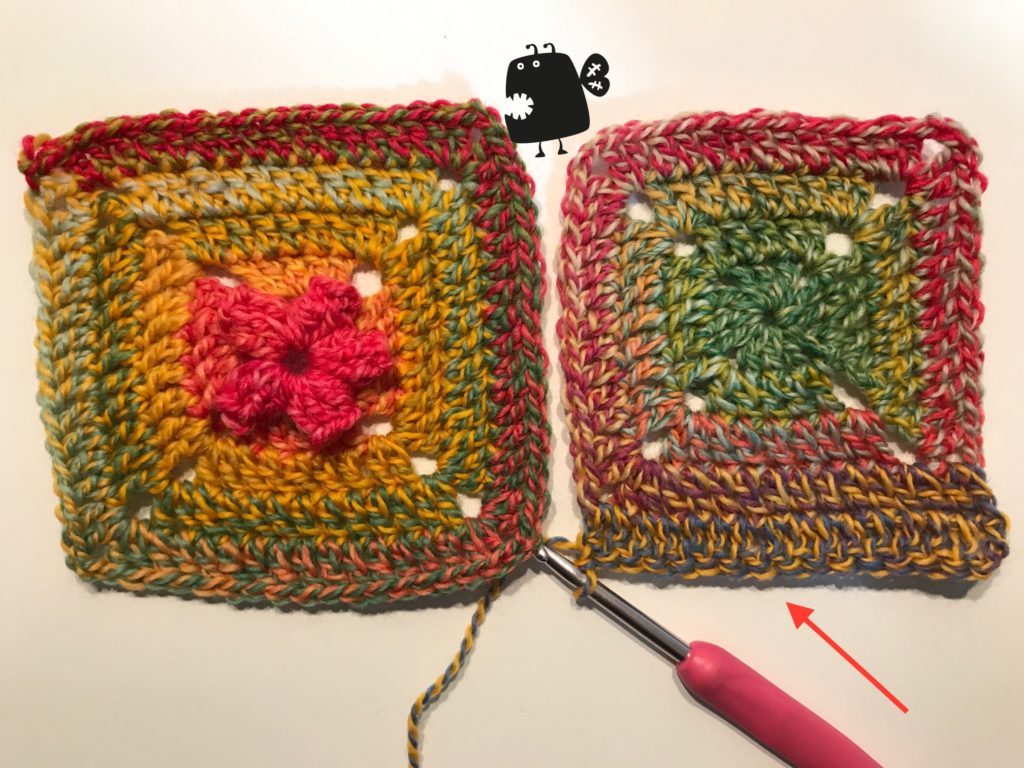 Il quadratino superiore è leggermente più grande di quello sotto, perché volevo che si vedesse meno la cucitura di giunzione.
The top square with the flower is a little bigger than the one on the bottom, because I didn't want to see the sewing.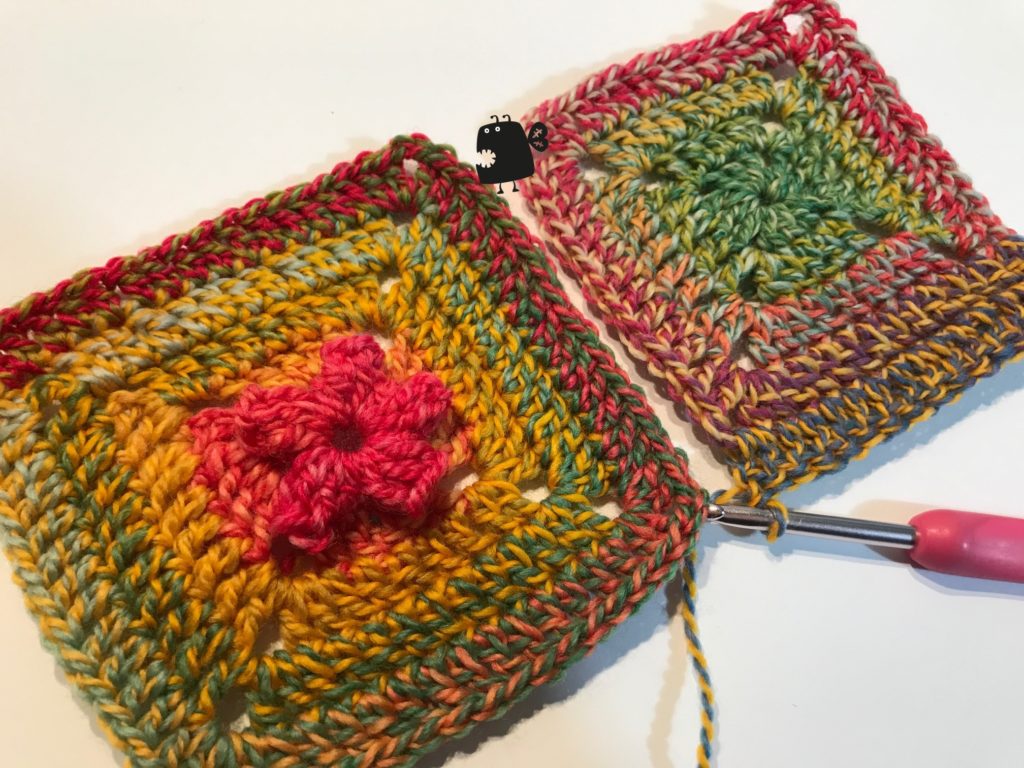 I due quadratini vanno quindi cuciti insieme sui lati lasciando sul lato l'apertura per il pollice.
You can sew two squares on two opposite borders, leaving an opening for your thumb.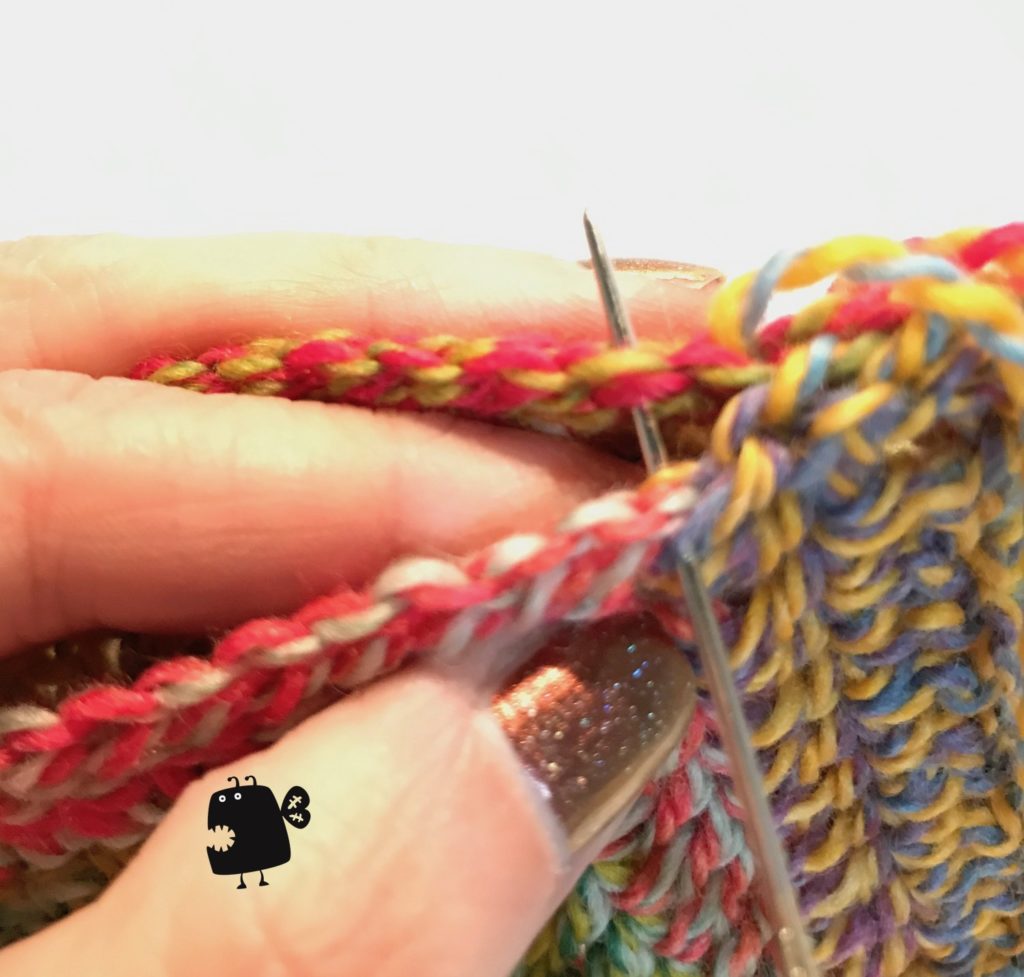 Si può rifinire il guantino con due giri di maglia bassa nella parte vicino alla dita.
You can make two rows of single crochet on the side near finger.
Vicino al polso si possono fare alcuni giri di maglia bassa, con qualche diminuzione per renderlo più stretto.
You can make a couple of rows of single crochet near wrist for a better fitting.
Ecco il grafico del quadratino con il fiore. Da notare che i giri sono chiusi con una maglia mezza alta, così si vedono meno le catenelle per salire al giro successivo. Ogni giro è segnato con un colore diverso. Potete ingrandire il quadratino a piacere.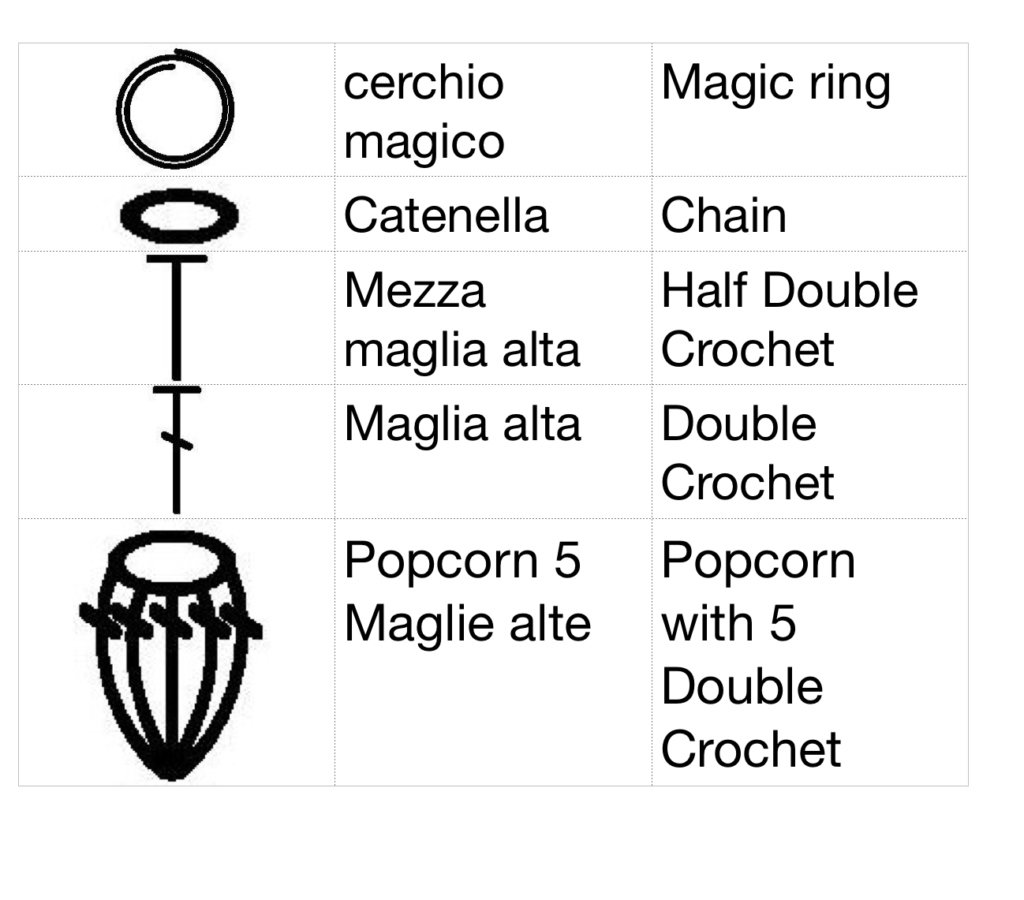 Here is the chart for the square with the flower. Please note that every row is closed with  a half double crochet, so next row has a better look. Every row is charted with a different color. You can make it big as you like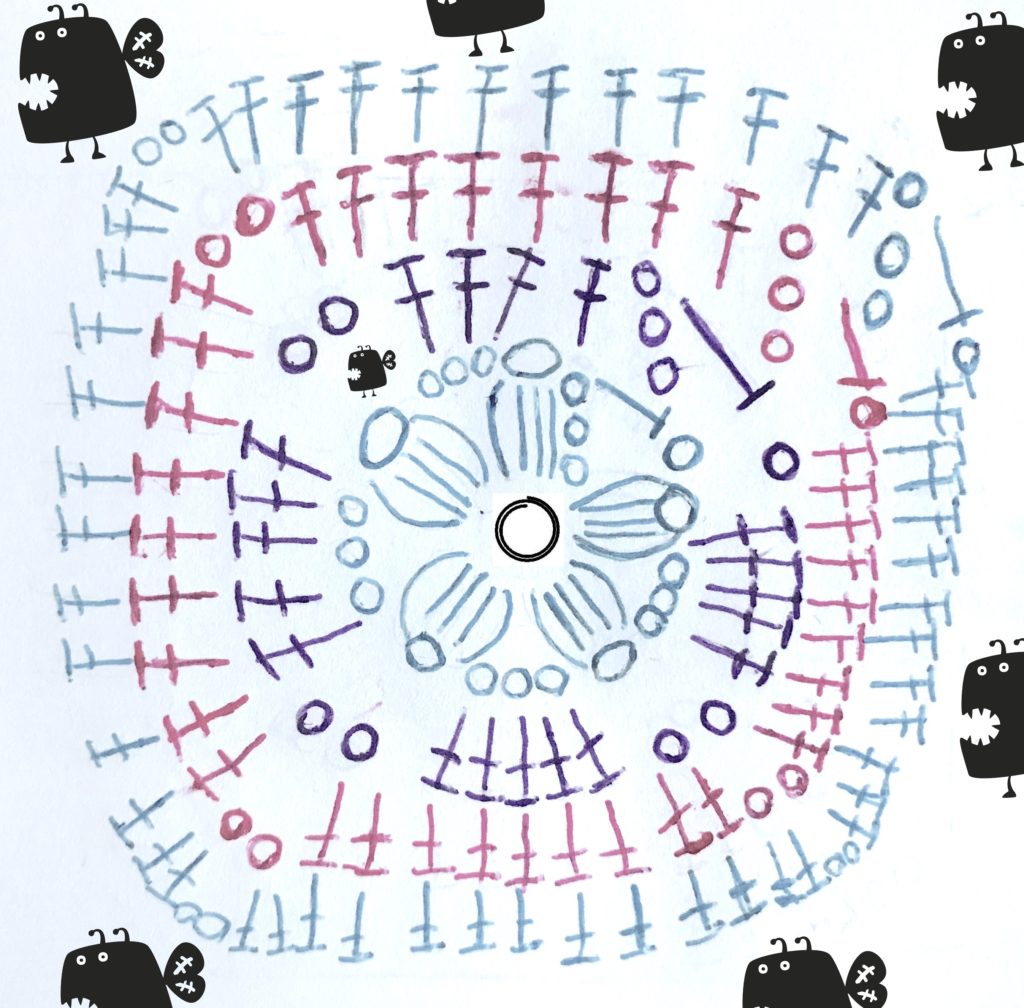 Questo è il mio regalo di Natale per voi, spero vi piaccia, anche se come disegnatrice faccio un po' pena. Buone Feste!!
This is my Xmas present for you, enjoy even if I'm not so good drawing 😉 😉