Siccome non mi piace prendere l'avvento del Natale come uno stress, preferisco sempre prepararmi per tempo…
Se volete cimentarvi in qualcosa carino, semplice e originale, perché non provate l'appliquè? Sostanzialmente si tratta di darsi da fare con le forbici, poi con la teletta biadesiva la fatica è davvero poca.
Non parlo infatti dell'appliquè classico, ma quello easy con la heat and bond diventa quasi un lavoro divertente da fare anche con i bambini più grandicelli. Ovviamente l'utilizzo del ferro da stiro è riservato ai più grandi 😉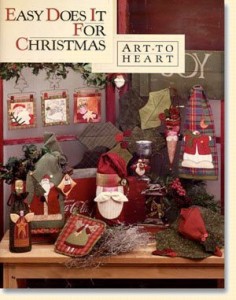 I progetti perfetti per il Natale li trovate tutti sui mitici libri di Nancy Halvorsen di Art To heart: sono tutti molto "puffosi", Babbo Natale è bello cicciotto e simpatico, e ha tanti aiutanti uno più spassoso dell'altro 😀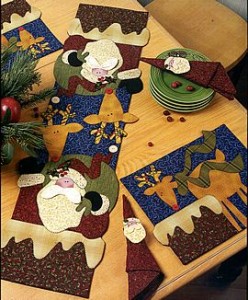 E per le stoffe di Natale non c'è che l'imbarazzo della scelta, l'importante è scegliere fantasie minute che facciano risaltare al meglio il disegno! Il trucco è partire per tempo, soprattutto ora che sono iniziate le scuole e abbiamo tutte più tempo per dedicarci all'arte!